Men's Wedding Suits in London
Fresh from creating Joe Wicks', AKA The Body Coach's, wedding suit Caroline Andrew London prides herself as one of the finest tailors when it comes to Wedding Day attire.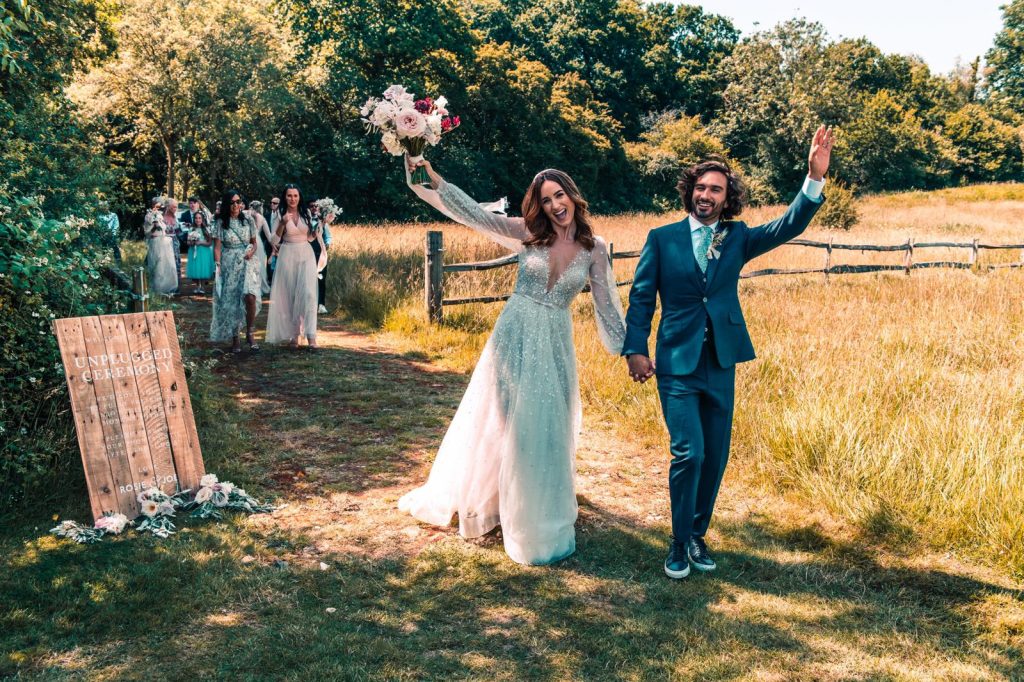 Caroline is attune to the style sensibilities of the modern gentleman, working closely with the groom to dream up a show-stopping sartorial ensemble befitting of such an auspicious occasion - whether it's down the route of fully bespoke or Andrew's trusted made-to-measure offering. Whichever route you choose, you'll have the distinct advantage of being able to reuse your outfit long after the exchange of vows. What's more, you'll be doing your bit for the planet in the process by mix and matching elements for a variety of future occasions.
The Tailoring Process and How it Works
An initial consultation is arranged where Caroline takes the time to properly understand and translate her client's vision in the surrounds of her Mayfair atelier.
1. Discussion and Consultation
Andrew is a master of designing suits which flatter any body shape and positively encourages some of her less confident clients to stray from their comfort zones under her expert tutelage. While the choice of fabrics available is infinite, fear not, Caroline will expertly guide you through the various options dependent upon the time of year your wedding takes place. If it's autumn/winter then she will recommend a heavier cloth such as flannel or something lighter like fresco if your big day happens to fall in spring/summer. To be afforded such choice is the result of years of forging connections with the finest family run mills in the UK and Italy.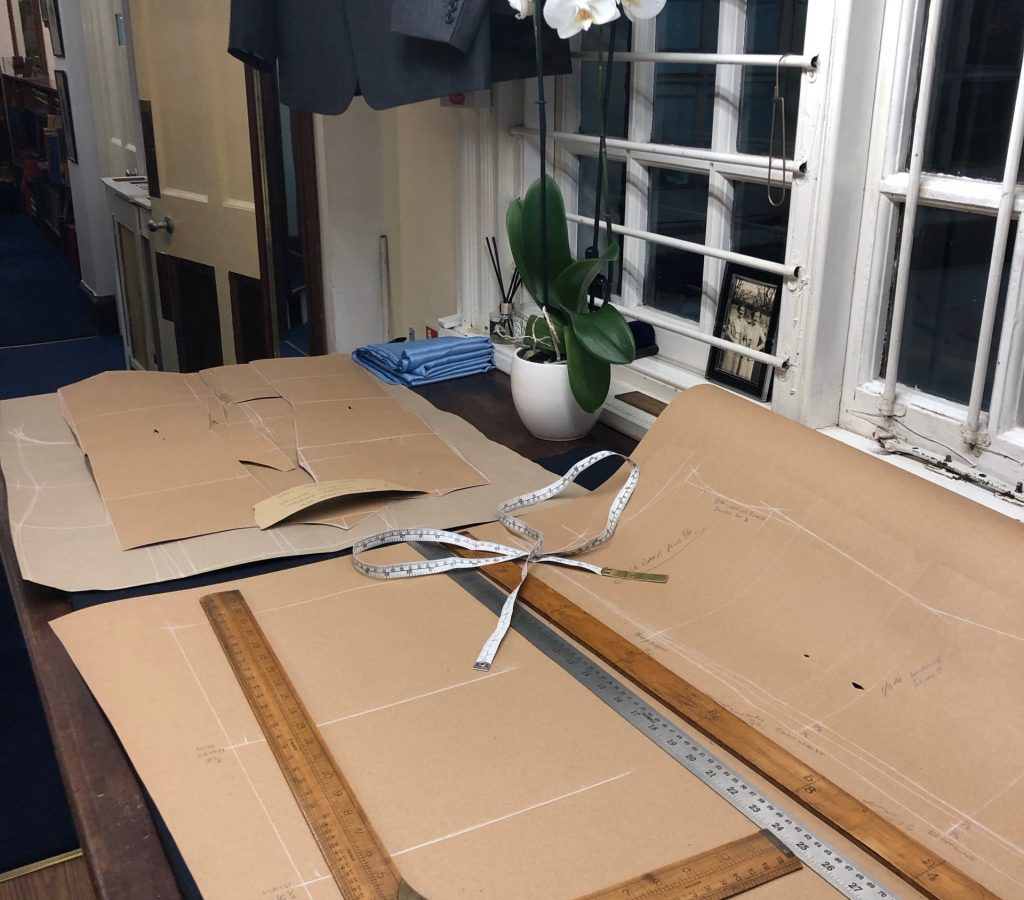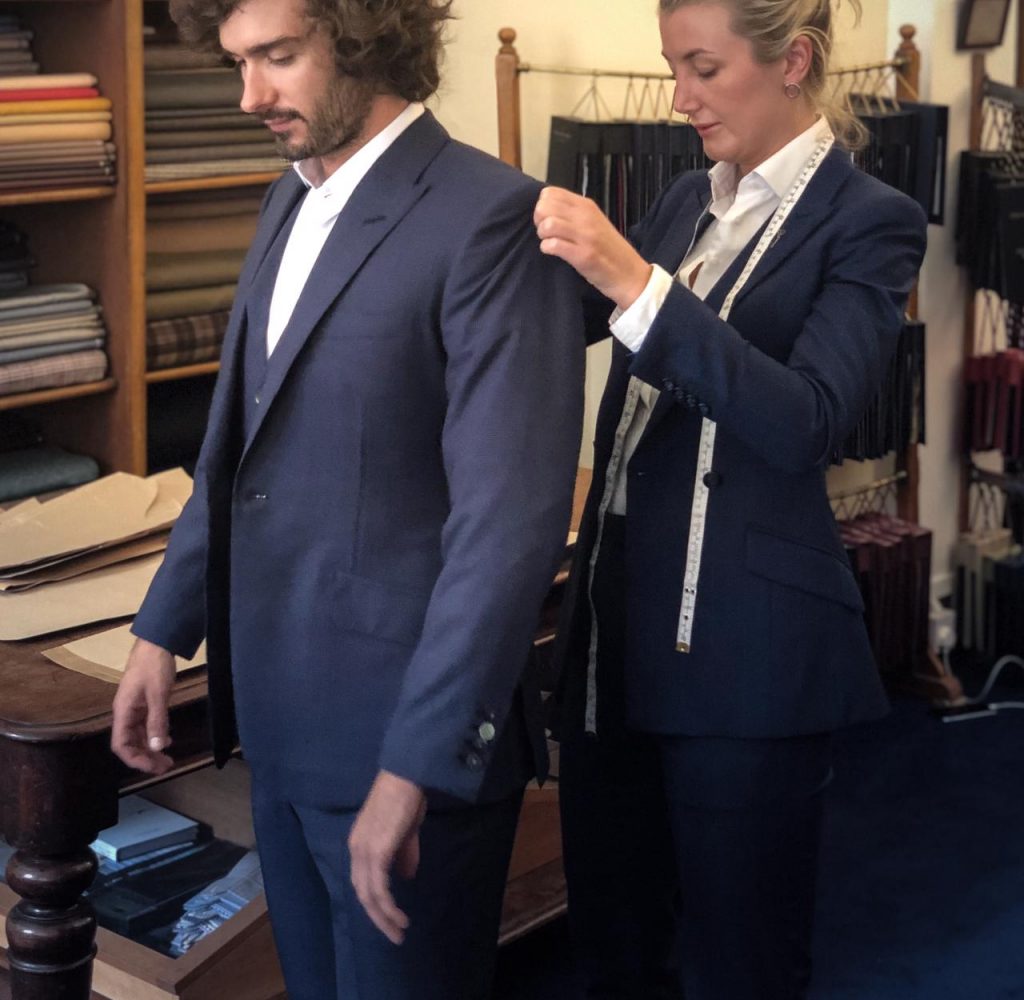 A paper pattern recording the initial set of measurements is created for every client after consultation and kept on file for future reference. This is then hand cut and can be adapted if necessary through the fitting process. Caroline advocates the importance of canvassing plays in the process of creating her bespoke suits: namely the crafting of a horsehair hand-stitched base which forms the shape of the client's bespoke coat which will naturally mold to the wearer's physique over time. Similar to the role a skeleton plays, this floating canvassed layer lends the jacket both support and shape, besides providing considerable comfort.
During the first fitting stage the coat maker is tasked with loosely stitching the pieces of fabric together based on the paper pattern. The cutter will then review the overall fit, noting down and chalking directly on to the suit by hand, recording any changes onto the client's master paper pattern. The garment will then be deconstructed in readiness for the second, and sometimes third fitting where further alterations can still be made to achieve perfection.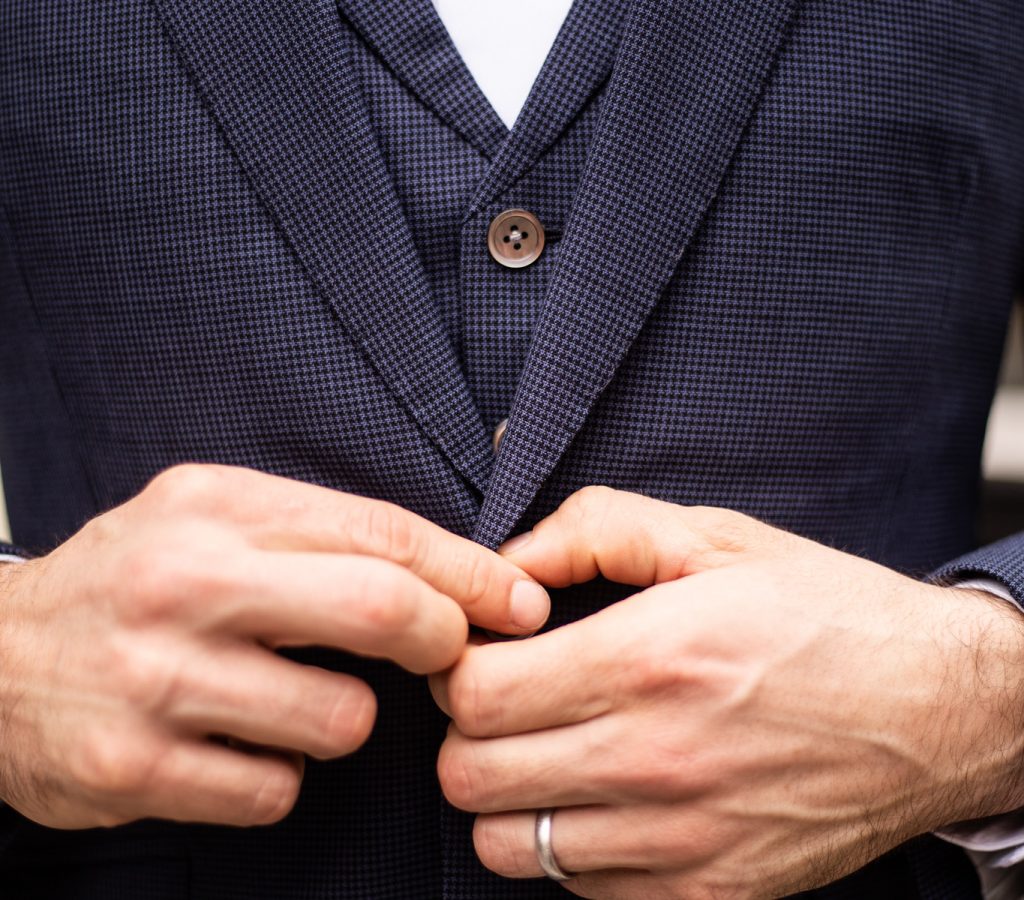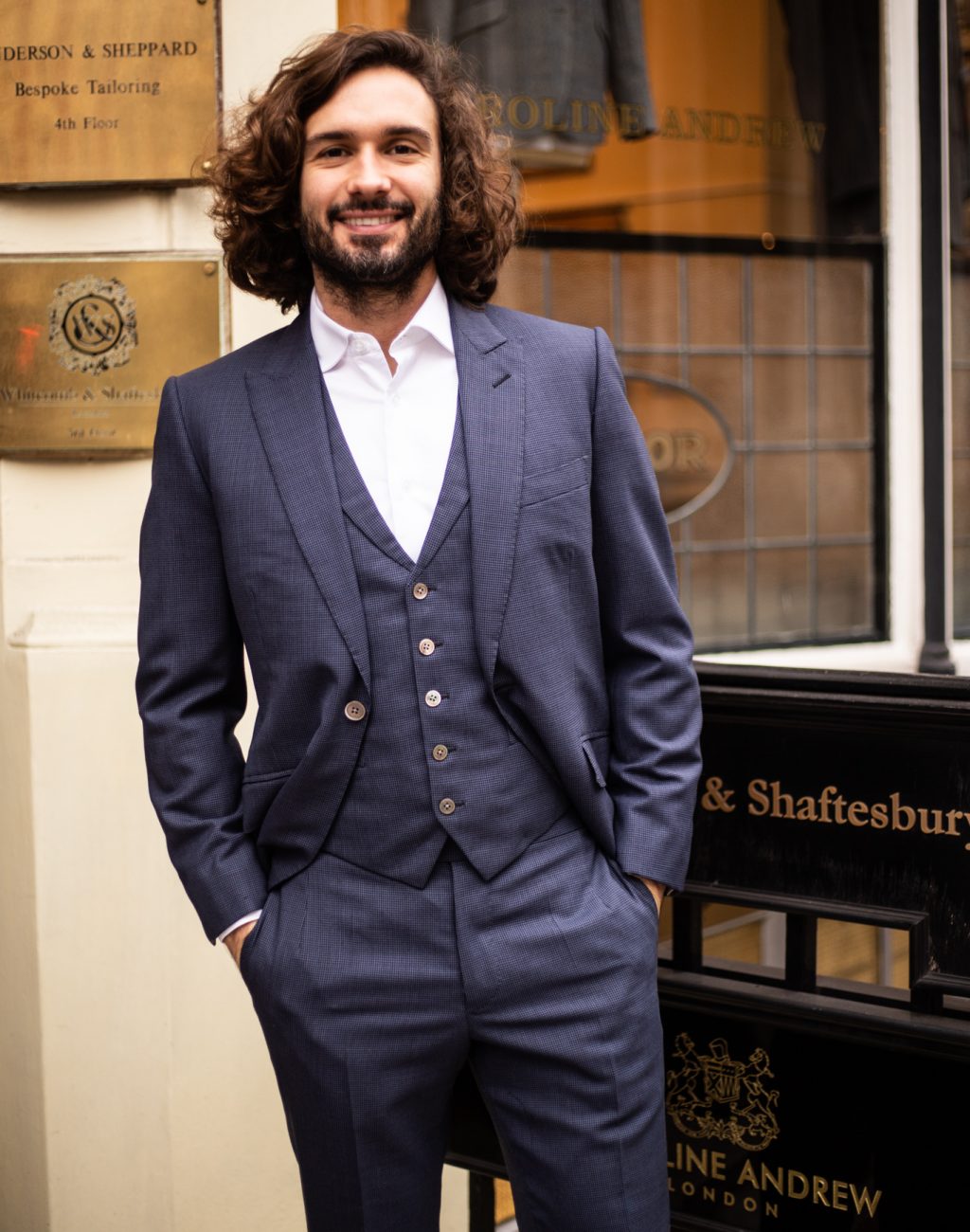 How long will it take to complete my bespoke Wedding suit?
The lead time on a Caroline Andrew London bespoke suit is between 8-10 weeks, including around 75 hours of craftsmanship to complete. Each and every garment is finished by hand, boasting individual details such as Beeswax strengthened buttonholes which adhere to a long standing industry tradition. The final wheel in the cog is performed by a specially trained presser who completes the process by molding, steaming and pressing the suit into its final form ready for the customer to take home. Read what our clients say here.
Why choose Caroline Andrew London?
Highly respected bespoke tailor Caroline Andrew specialises in traditional hand-crafted British suits for grooms. Her long held belief that beauty and functionality serve a central purpose is evident in all her designs – to both enrich and simplify the life of the modern groom. Infusing revered Savile Row cutting techniques alongside her clean and minimalist aesthetic, she creates a signature style with perfect fit. Caroline Andrew is one of the best tailors when it comes to men's wedding suits in London.

Based in the heart of London's Mayfair, with a second atelier in Kensington, she is revered not only for her innovation but her ability to consistently break new grounds in tailoring. Caroline Andrew bespoke wedding suits are handmade in London utilizing the very finest British fabrics from the best family owned mills beyond compare.

Caroline was named "The One to Watch" by Vanity Fair magazine and awarded "Bright Young Thing" by The Mayfair Times 2020. She was also shortlisted for the "Retail and Fashion Award" hosted by Variety Catherine awards - celebrating inspirational women in business.

For testimonials please click here. For more recent media coverage here.