Men's Tailoring in London
No matter your body shape, size or height, Caroline Andrew London prides herself on offering a professional and individual bespoke suiting service tailored to your individual needs. Whether it's our top-to-toe Savile Row bespoke treatment, our acclaimed made-to-measure offering, right down to the shirts & accessories which complement and complete the bespoke experience.
Caroline Andrew London is one of the leading exponents in her field when it comes to the world of men's tailoring.
The Tailoring Process and How it Works
Stage one of the process involves an initial consultation with Caroline Andrew herself in the surrounds of her Mayfair atelier. This affords the opportunity to take on board the intricate details of the client's commission, advising them on both choice of cloth and design, demystifying a process often regarded as intimidating, into a more serene and attentive experience.
1. Discussion and Consultation
Caroline's designer instinct will work out exactly what she thinks will work for you, often encouraging her less sartorially-savvy clients to challenge their existing style ideals and take a risk on her trusted professional advice. Caroline's backroom team then piece together a detailed set of measurements and observations based upon the clients' feedback. The culmination of many years of experience working with the finest echelons of both British and Italian cloth manufacture, has culminated in an unrivalled choice of cloth for your prized commission – a process Caroline is happy to advise upon, dependent on the occasion, taking in to consideration seasonal requirements and intended wear.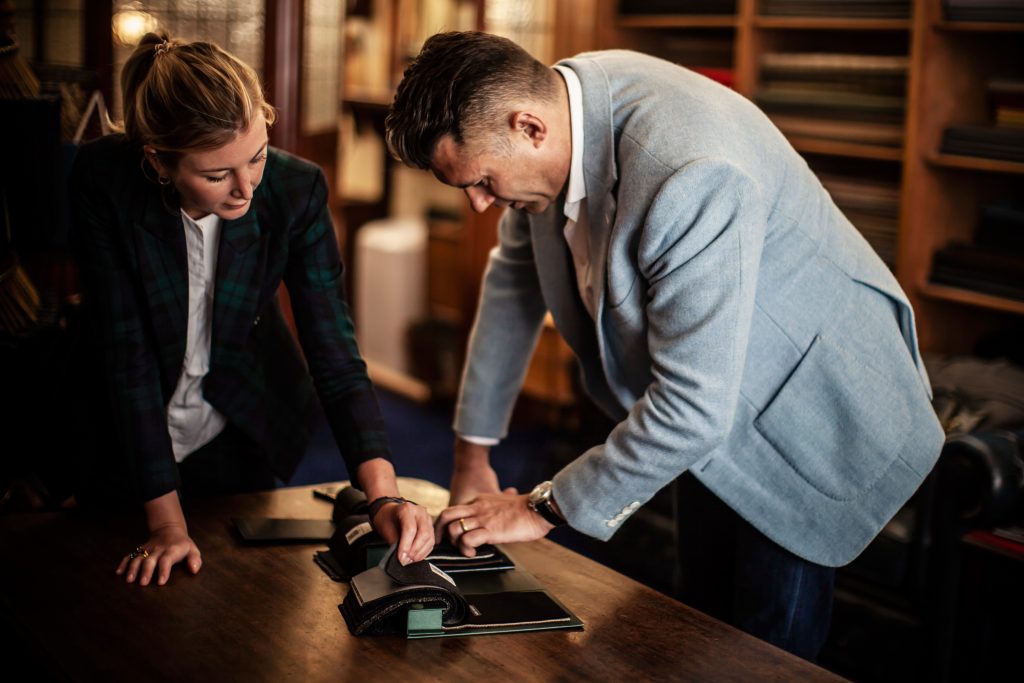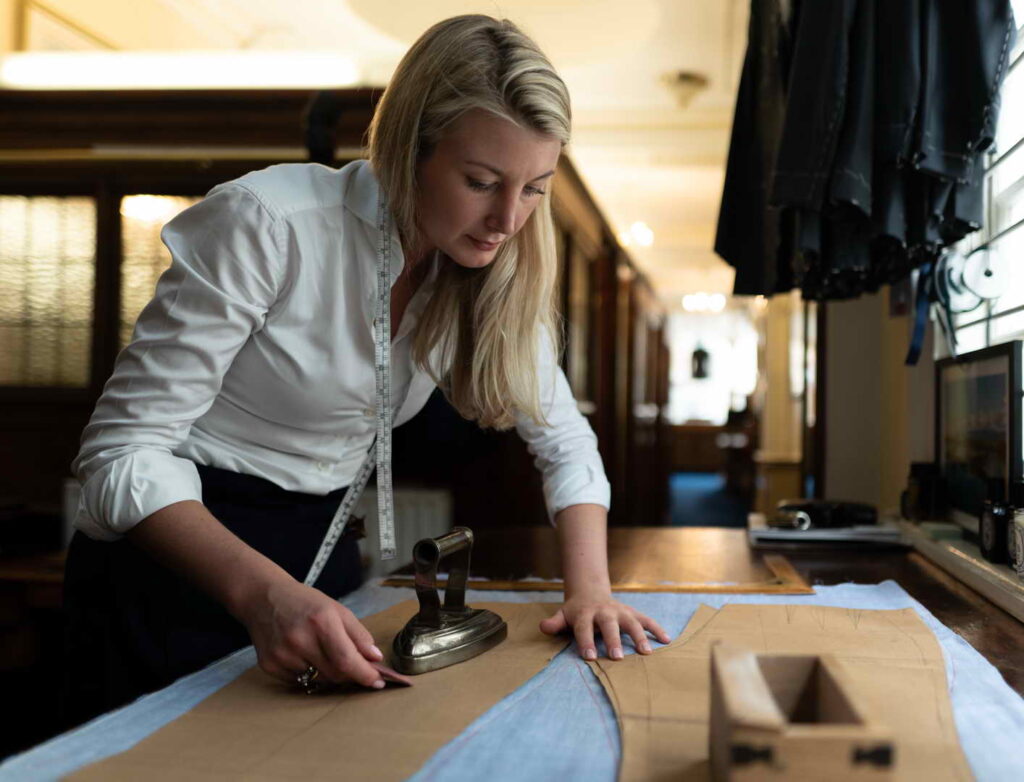 These statistics result in the creation of a paper pattern which is then hand cut and refined through the fitting process. Caroline is keen to stress the importance canvassing plays in the process of creating her bespoke suits: in particular the production of a horsehair hand-stitched base which forms the shape of the client's bespoke coat which will naturally mold to the wearer's physique over time. As well as providing comfort, this floating canvassed layer lends the jacket both support and shape, much like a skeleton.
A first fitting is subsequently arranged, where the coat maker loosely assembles the various elements of fabric together based on the paper pattern. The cutter will then examine overall fit on the wearer, carefully noting down any discrepancies and chalking the amendments onto the suit by hand. The garment is then deconstructed and re-cut in readiness for a second and sometimes third fitting where further alterations can be perfected.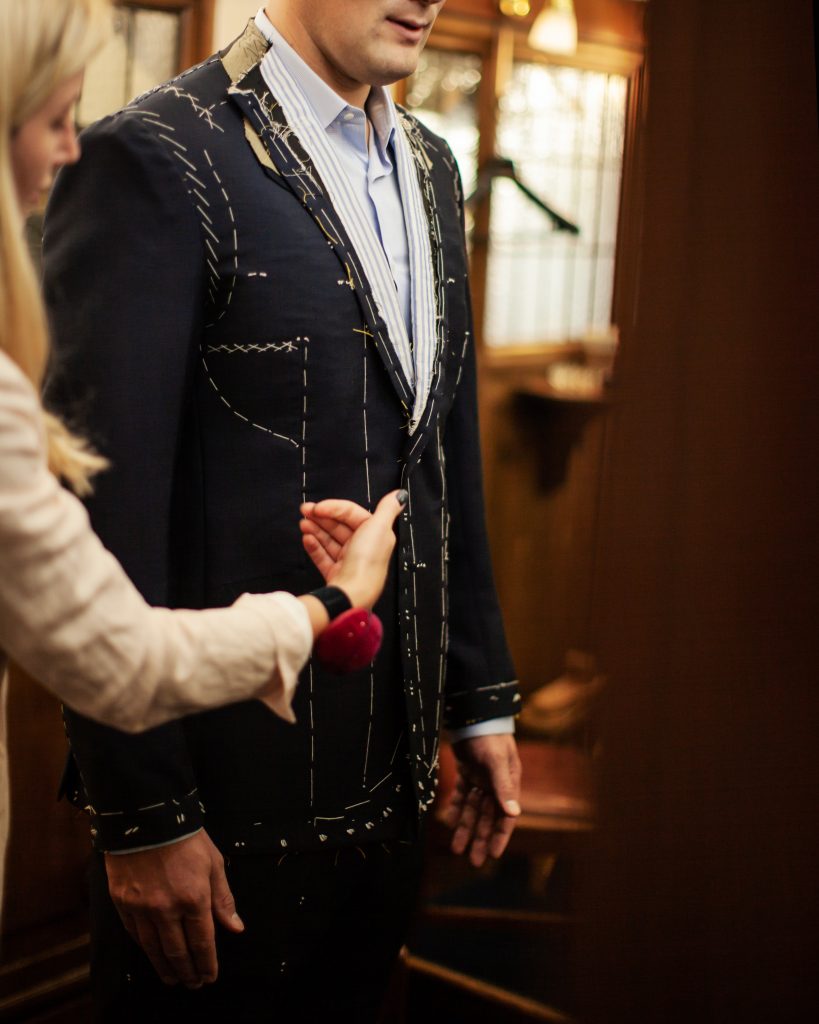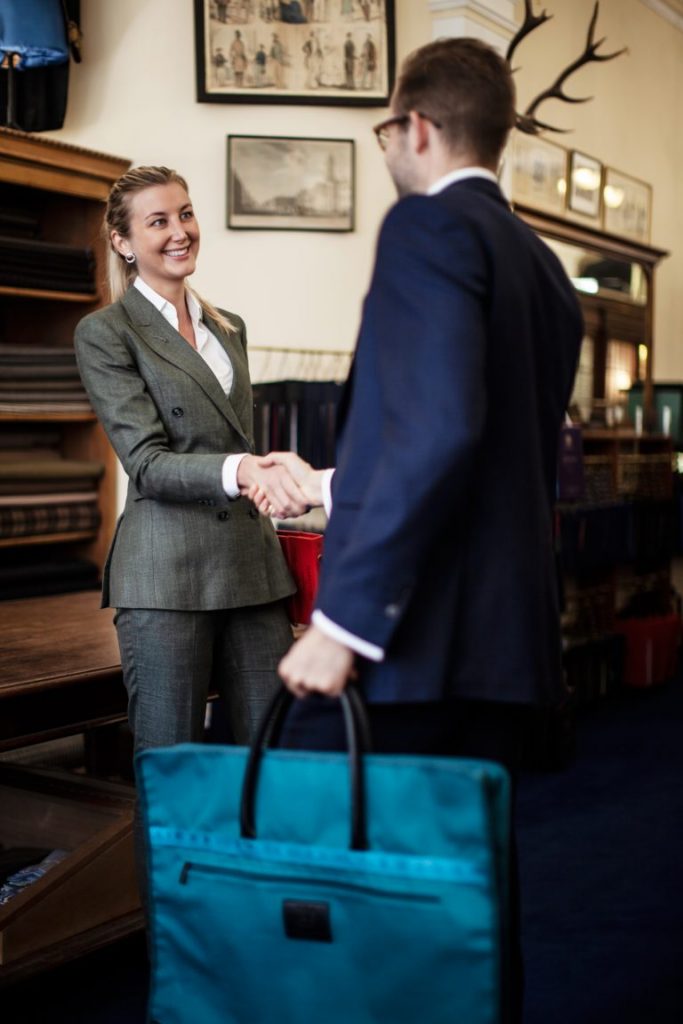 How long will it take to complete my bespoke suit?
It takes between 8-10 weeks including 75 hours of crafting to create a Caroline Andrew London bespoke suit. All garments are hand-finished featuring Beeswax strengthened buttonholes which adhere to a long standing industry tradition. The final touches are performed by a seasoned presser who completes the process by molding, steaming and pressing the suit into its final form ready for collection. Read what our clients say here.
Why choose Caroline Andrew London?
Caroline Andrew is a highly respected bespoke tailor who focuses on traditional hand-crafted British suits for men. Beauty and functionality are Caroline Andrew's raison d'être– in that her garments should both enrich and simplify the life of the contemporary man. True to her belief, she infuses Savile Row cutting and tailoring techniques with her clean and minimalist design to create a signature style with perfect fit. Caroline Andrew London is considered one of the best when it comes to men's tailoring in London.
Based in the heart of Mayfair, with a second atelier on London's plush Kensington Church Street, she is revered for her innovation and propensity to consistently break new ground. Caroline was named "The One to Watch" by Vanity Fair magazine and awarded "Bright Young Thing" by The Mayfair Times 2020. She was also shortlisted for the "Retail and Fashion Award" hosted by Variety Catherine awards - celebrating inspirational women in business.

For testimonials please click here. For more recent media coverage here.