Women's Tailoring in London
No matter what the social etiquette dictates, be it formal or relaxed, Savile Row tailor Caroline Andrew has her finger firmly on the sartorial pulse when it comes to understanding the unique demands and nuances of her discerning clientele, those of the contemporary woman.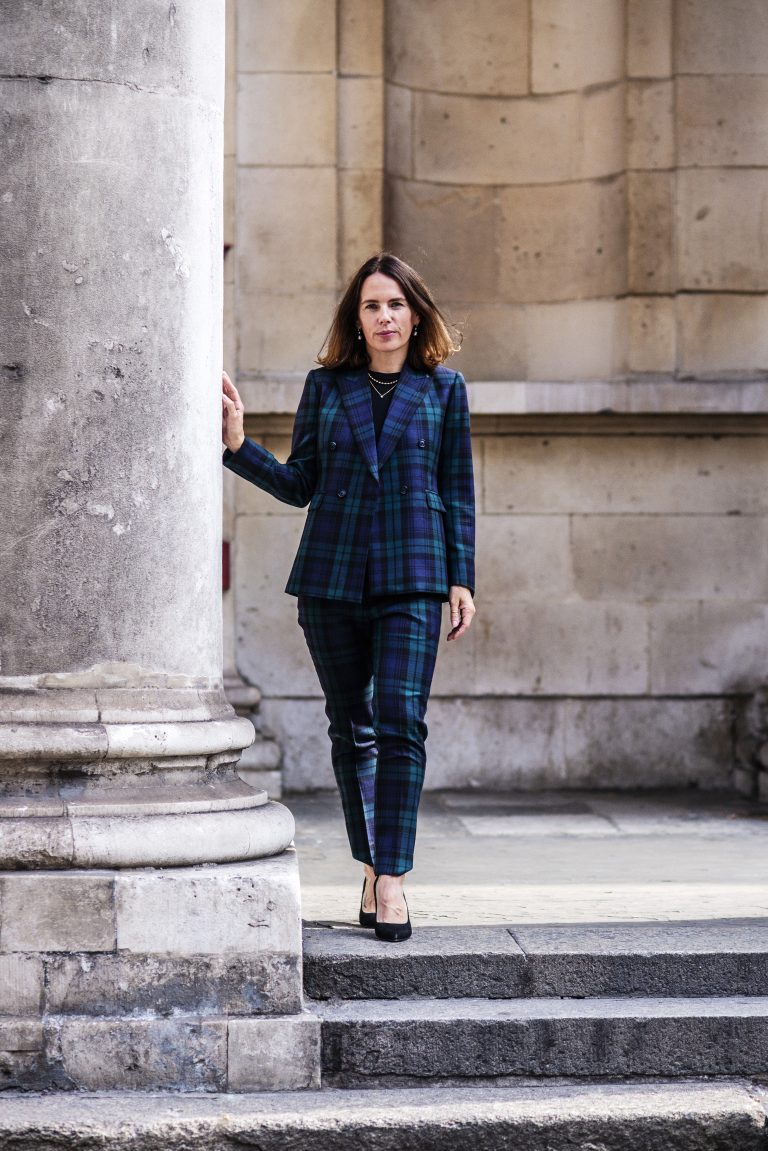 Considered one of the leading creatives in her field, Andrew's USP is to empower the customer whatever their environment, offering a repertoire of bespoke and made-to-measure services tailored to the client's individual needs – ranging from the full head-to-toe Savile Row bespoke treatment to an array of stylish accessories to compliment the overall look. Caroline Andrew London is considered one of the best when it comes to women's tailoring in London.
The Tailoring Process and How it Works
The Caroline Andrew signature Savile row bespoke business suit offers not only the perfect fit that moulds to your physique but also long-lasting comfort and ease of movement.
1. Discussion and Consultation
During the initial consultation in her Mayfair atelier, Caroline Andrew advises clients on both choice of cloth and design, demystifying a process often deemed intimidating into a calm and attentive experience. The Caroline Andrew London team compile detailed measurements and notes based upon the clients' requests, which in turn are translated in to the perfect garment. Working with the finest British and Italian mills and weavers, the choice of cloth for your prized commission is infinite – a process Caroline will gladly guide you through based upon the occasion and any particular seasonal requirements including how often you intend to wear your bespoke garment.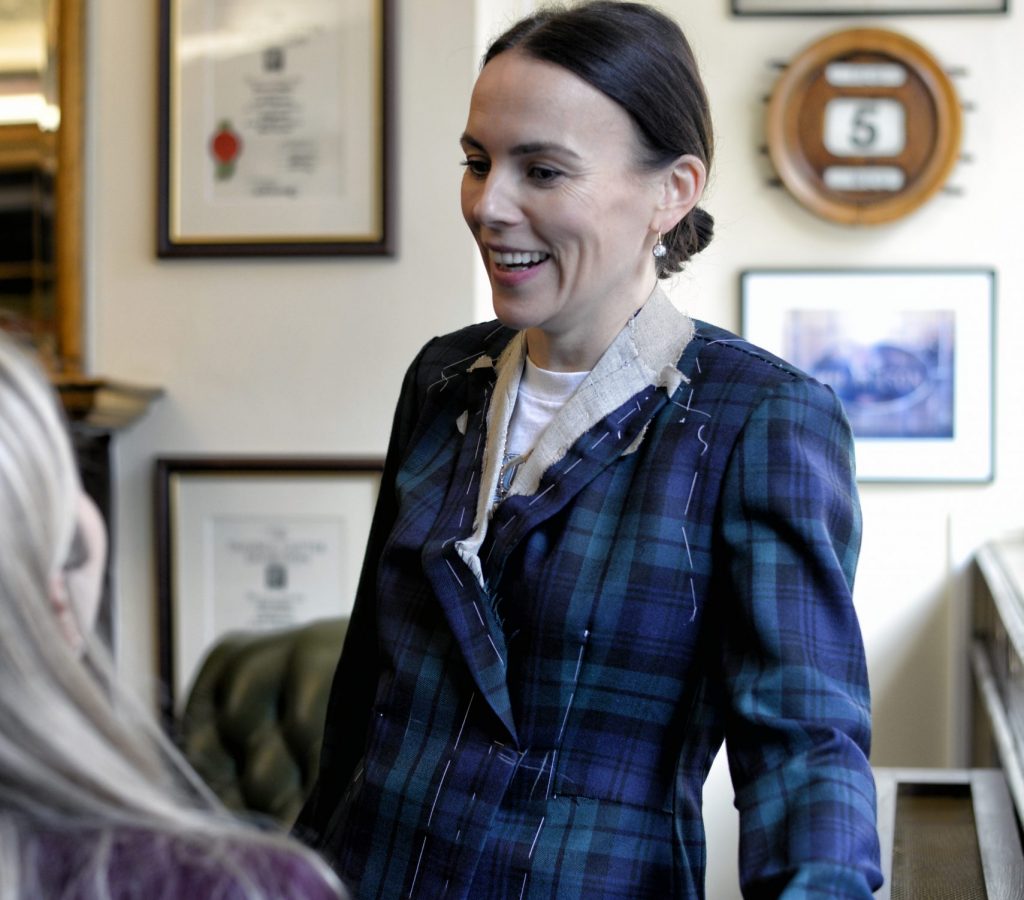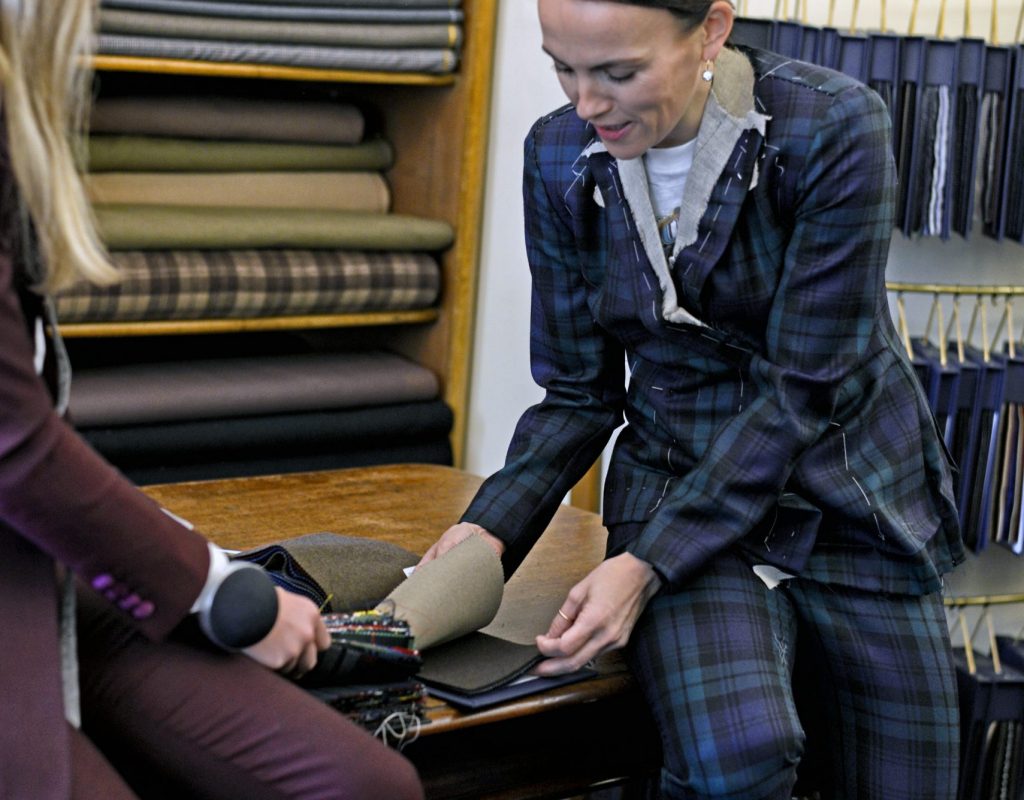 Subsequently every client has their own recorded paper pattern based on the initial set of measurements which is then hand cut and refined through the fitting process. Caroline places particular emphasis on the importance canvassing plays in the process of creating her bespoke suits: namely the crafting of a horsehair hand-stitched base which forms the shape of the client's bespoke coat which will naturally mold to the wearer's physique over time. As well as providing comfort, this floating canvassed layer lends the jacket both support and shape, much like a skeleton.
A first fitting entails the coat maker loosely stitching the pieces of fabric together based on the paper pattern. The cutter will then examine overall fit, take notes and chalk the amendments onto the suit by hand, recording any changes onto the client's master paper pattern. The garment is then completely taken apart, re-cut and during second and often third fittings further alterations can be made to achieve the perfect fit.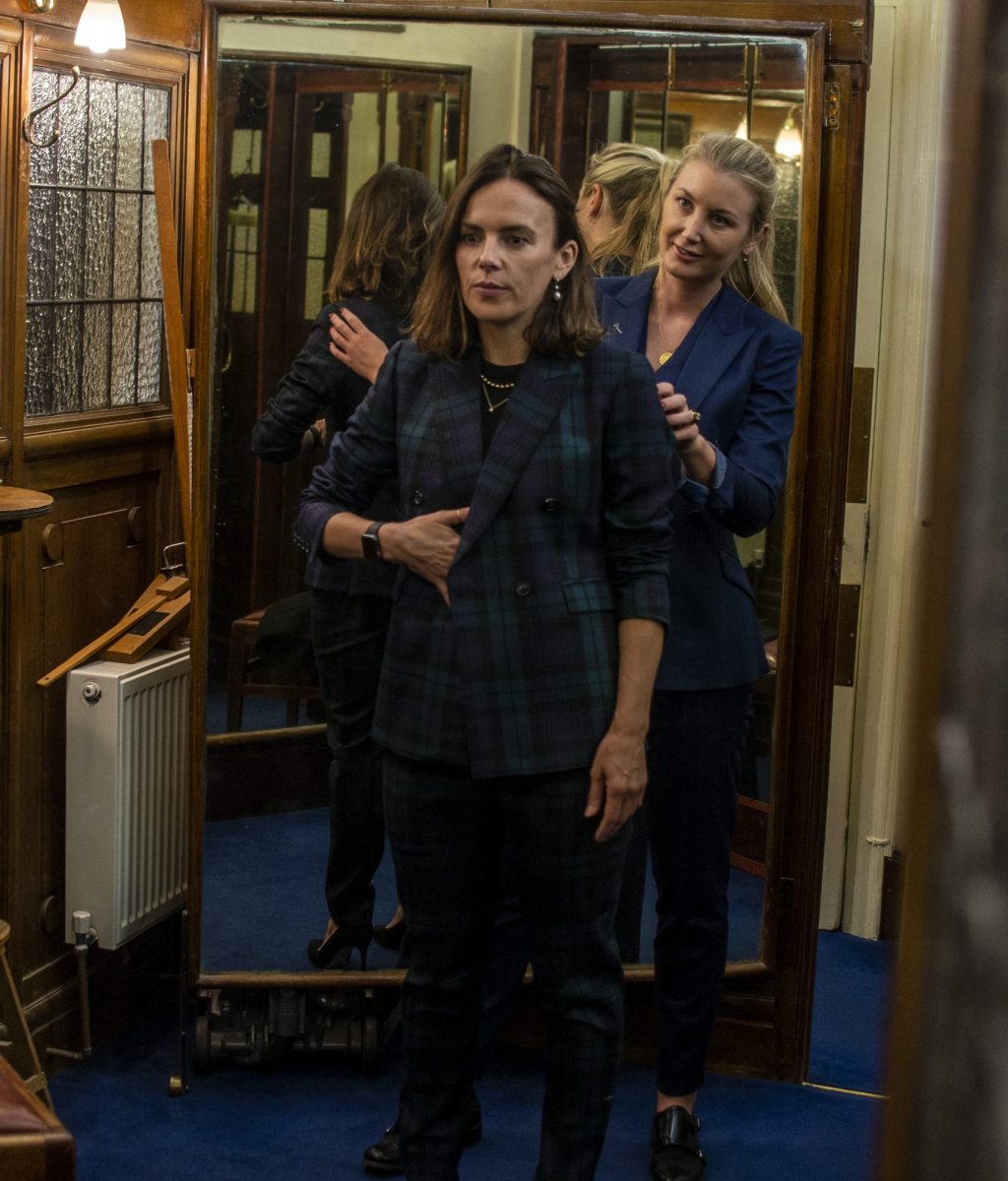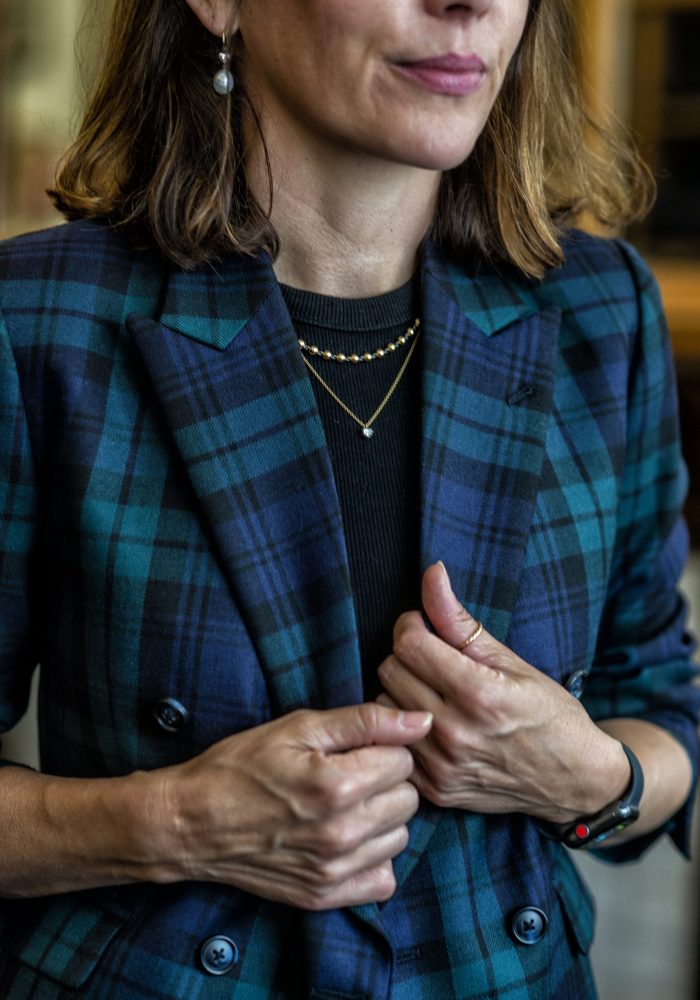 How Long will it take to complete my bespoke Suit?
Caroline Andrew London bespoke suits take around 75 hours of crafting to complete over a period of 8-10 weeks. All garments are hand-finished featuring Beeswax strengthened buttonholes which adhere to a long standing industry tradition. A specially trained presser completes the process by molding, steaming and pressing the suit into its final form ready for the customer to take home. Read what our clients say here.
Why Choose Caroline Andrew London?
Caroline Andrew is a highly respected bespoke tailor who focuses on traditional hand-crafted British suits for women. Beauty and functionality are Caroline Andrew's raison d'être– in that her garments should both enrich and simplify the life of the modern woman. True to her belief, she infuses Savile Row cutting and tailoring techniques with her clean and minimalist design to create a signature style with perfect fit. Caroline Andrew is considered one of the leading figures when it comes to bespoke women's suits in London.
Based in the heart of Mayfair, with a second atelier on London's plush Kensington Church Street, she is revered for her innovation and propensity to consistently break new ground. Caroline was named "The One to Watch" by Vanity Fair magazine and awarded "Bright Young Thing" by The Mayfair Times 2020. She was also shortlisted for the "Retail and Fashion Award" hosted by Variety Catherine awards - celebrating inspirational women in business. For testimonials please click here. For more recent media coverage here.